The Everyday Space Traveler honored with "Book of the Year" Award
The Everyday Space Traveler was recently honored with a Book of the Year Award from Foreword Reviews.   That makes 3 awards this year.

Nautilus "GRAND PRIZE" Book Award
The Everyday Space Traveler also won the Nautilus Grand Prize for Young Adult Non-Fiction and was voted one of three "Best-In-Show".   We are honored to be among the winners of Nautilus' Better Books for a Better World.  Nautilusbookawards.com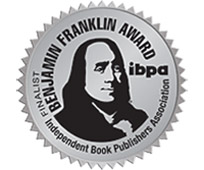 Benjamin Franklin Award
The Everyday Space Traveler was also awarded the Silver Medal in the Benjamin Franklin Awards from the Independent Book Publisher's Association.    Named in honor of America's most cherished publisher/printer, the Benjamin Franklin Award™ recognizes excellence in independent publishing.  We congratulate Gold Medal Winner Jean-Michel Cousteau and Ocean Publishing.