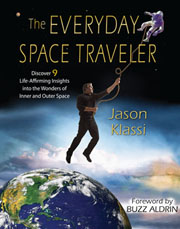 The Everyday Space Traveler
Discover Nine Insights into the Wonders of
Inner and Outer Space
Foreword by Apollo 11 Astronaut
and moon walker Buzz Aldrin.
Available July 20, 2012
CHAPTER 9: REDISCOVERING HOME
Fortunately we all survived our hypothetical journey through the black hole in the center of our Milky Way galaxy. We've safely exited the other side of mystery and are now entering familiar territory.
There is no mistaking the welcoming hues of our home planet, slowly rotating outside CosmicSea's window. Below us we can sense wondrous life thriving in the green, blue, brown and white undulating across Earth's surface as if being painted before our eyes by the unseen hand of a great artist.
Much to our relief, JourneyStar soon dives through a layer of clouds and levels out for landing. There is a clear view of the runway on the desert below. A large crowd of people have gathered to welcome us back.
Safe on the ground, we exit JourneyStar to a hero's welcome. With our first look around, we realize that the next part of our journey has only just begun.
We're not the same people who left many months ago. We're better because of our journey—but none of us could've imagined the changes that have happened here at home.

Welcome aboard EXPEDITION LIFEPOINT, an imaginary yet plausible journey to Mars.
The mission of our envisioned journey is not to foretell the future but to explore the possibilities. By stepping into the future in our minds, we may make better use of the present in our lives.
Join the voyagers of EXPEDITION LIFEPOINT on the world's first adventure vacation to Mars - a spectacular virtual journey where you can discover timeless secrets of the universe that have taken earthbound humans millennia to understand.
Experience the cosmos now-using this book as your private spaceship.
Each chapter is a leg of a journey where you can discover 9 life-affirming insights into the wonders of inner and outer space.
Climb aboard the state-of-the-art spacecraft CosmicSea for the adventure of a lifetime!
"I like to take a peek at the future, even if it's only a potential future." - Will I. Am, singer/songwriter of The Black Eyed Peas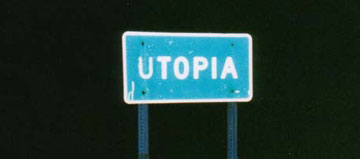 Envision a Near-Perfect World.
Take a moment to envision an advanced ecological, technological and creative society.
If there could be an optimal word, how would it look and how can you help create it?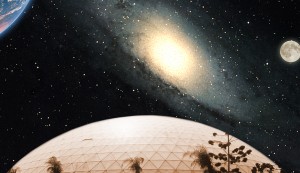 Participate in the Future
Play your part in creating a better world for us all. Get involved with activities and organizations that are making a difference such as the X Prize Foundation (www.xprize.org), the United Nations (www.un.org) and The TED Conference (www.ted.com).
Buy The Everyday Space Traveler and apply the 9 insights of space travel to your life every day.