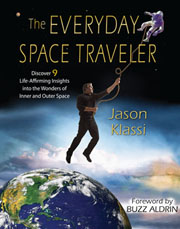 The Everyday Space Traveler
Discover Nine Insights into the Wonders of
Inner and Outer Space
Foreword by Apollo 11 Astronaut
and moon walker Buzz Aldrin.
Available July 20, 2012
CHAPTER 1: SPACE-TRAVELING EVERY DAY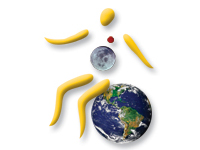 Today. On the Ride of Our Lives!
At this very moment, you and I are traveling through space!   We are spinning on Earth's surface at over 800 miles per hour.
At the same time, we are circling the Sun at over 60,000 miles per hours. All the while, our solar system in the Milky Way Galaxy speeds along at hundreds of thousands of miles per hour. It takes about 220 million years for the Sun to complete one loop around the center of our galaxy.
We already are space travelers.

Welcome aboard EXPEDITION LIFEPOINT, an imaginary yet plausible journey to Mars.
The mission of our envisioned journey is not to foretell the future but to explore the possibilities. By stepping into the future in our minds, we may make better use of the present in our lives.
Join the voyagers of EXPEDITION LIFEPOINT on the world's first adventure vacation to Mars - a spectacular virtual journey where you can discover timeless secrets of the universe that have taken earthbound humans millennia to understand.
Experience the cosmos now-using this book as your private spaceship.
Each chapter is a leg of a journey where you can discover 9 life-affirming insights into the wonders of inner and outer space.
Climb aboard the state-of-the-art spacecraft CosmicSea for the adventure of a lifetime!
"I like to take a peek at the future, even if it's only a potential future." - Will I. Am, singer/songwriter of The Black Eyed Peas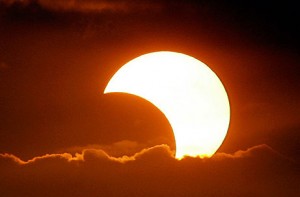 Experience the Wonder of an Eclipse
You won't need your iPad to experience a meteor shower, an aurora borealis or a lunar or solar eclipse. An eclipse is a predictable cosmic event that is both beautiful and profound. Witnessing an eclipse first hand makes us keenly aware that we already are space travelers onboard a planet moving through the vastness of space.