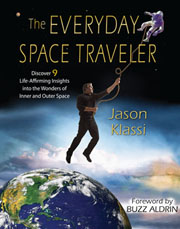 The Everyday Space Traveler
Discover Nine Insights into the Wonders of
Inner and Outer Space
Foreword by Apollo 11 Astronaut
and moon walker Buzz Aldrin.
Available July 20, 2012
CHAPTER 2: EXPLORING INNER SPACE

The Time is Now—We Are Inward Bound
Before we travel the endless realm of outer space, we'll first explore the equally boundless territory of our own inner space. Inner strength and self-knowledge are essential for survival on any challenging adventure, especially this one.
As Plato said, there are two great tasks for the hero and heroine of classical adventures. The first is to withdraw from everyday life and explore the powerful dimensions of inner space.
Our journey to Mars will make our everyday lives very different. We will be confined to our ship and limited to the monotony of the same entertainments, the same food and the same faces. We will be alone in an environment that constantly threatens us with death.
Inner calm and basic survival skills can help us thrive in outer space and on Earth. Inner peace—don't leave home without it!

Welcome aboard EXPEDITION LIFEPOINT, an imaginary yet plausible journey to Mars.
The mission of our envisioned journey is not to foretell the future but to explore the possibilities. By stepping into the future in our minds, we may make better use of the present in our lives.
Join the voyagers of EXPEDITION LIFEPOINT on the world's first adventure vacation to Mars - a spectacular virtual journey where you can discover timeless secrets of the universe that have taken earthbound humans millennia to understand.
Experience the cosmos now-using this book as your private spaceship.
Each chapter is a leg of a journey where you can discover 9 life-affirming insights into the wonders of inner and outer space.
Climb aboard the state-of-the-art spacecraft CosmicSea for the adventure of a lifetime!
"I like to take a peek at the future, even if it's only a potential future." - Will I. Am, singer/songwriter of The Black Eyed Peas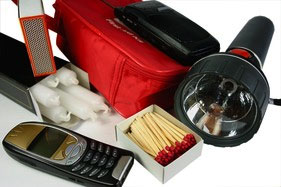 Have a survival plan.
Disasters can strike at anytime – in our home, our community or our country. In all cases, breathe deeply and be prepared with a plan, the right gear, the skills and inner strength to surviv
Keep calm by being prepared . Inner strength is a critical survival tool when disaster strikes.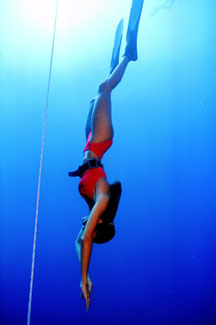 Try meditation, yoga or free-diving.
Free-diving is the most natural and serene way to explore the depths of the oceans with minimal impact. It is a zen-like experience and the ultimate way to free yourself enjoying the beauty and silence of the sea.
Check out the Association Internationale pour le Développement de l'Apnée. AIDA is the Worldwide Federation for breath-hold diving, established in 1992. (www.aidainternational.org)